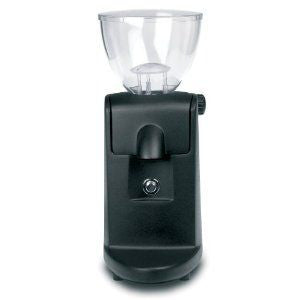 Ascaso i-mini (i2) Grinder - Black
Product Description
THE PROFESSIONAL i-mini (i2) GRINDER
The iMini is a superb conical burr coffee grinder from Ascaso, a company that specialises in commercial and domestic coffee equipment. Its compact size makes it ideal for domestic use and it is extremely solidly made.
Turning the knob on the side of the grinder allows the grind setting to be adjusted to any point on a continuous scale from the finest to the coarsest setting, making it easy to grind coffee for any type of coffee making. It allows very small adjustments to be made very easily making it one of the few grinders that can achieve the perfect grind setting for making espresso.
The body of the black i-Mini is made from abs plastic. It has a small integral tray below the chute to catch spilt coffee grounds. The hopper is made from clear plastic and holds approximately 250g of coffee beans. The hopper just lifts off for washing and the top of the grinder is easily removed to allow access to the burrs for cleaning.
The ground coffee is dispensed directly into your portafilter handle from the chute, simply hold the portafilter handle against the button on the front of the grinder to activate the grinding mechanism. If you do not use an espresso machine you can dispense the coffee into a small cup or container.
Specifications:
Motor Power: 140W
RPM: 1200rpm
Connicals: 38mm
Volts: 240v
Hopper Capacity: 250 g
Weight: 7.7 lbs.
Measurements: 12.2" H x 4.9" W x 8.9" D
Warranty: One year
---
We Also Recommend